Rex Harrison and Julie Andrews in MY FAIR LADY
I've found four delightful romantic comedies that are free on Amazon Prime to recommend to all my loyal readers. Romantic comedy is where I live. It is ALL to me, beginning, middle and end. Romantic comedies are the ultimate explication of character in action in the most important battlefield of life, romance. Alright, perhaps I will concede that romance is only one of the most important battlefields of life. However, character is destiny.
Romantic comedy unites the quest for libidinal satisfaction. melding imagination and action, while necessarily also addressing how true love and a happy marriage requires the fulfillment of each of our unique personhoods, and the moral rightness of our ambition. In short, a metaphor to point the way to domestic happiness.
Also, romantic comedies have happy endings, which is, and always has been, de rigueur for me. A show biz acquaintance in defense of a gloomy piece of theater once admonished me that everything couldn't be like My Fair Lady. Why not? I thought. It was at that moment that I discovered my mission in life: to do my best to help the world attain a state of pure romantic comedy for everyone, complete with happy endings for all.
Now that we have that out of the way, here are the comedies. Two of them star Glynis Johns, who I love, but perhaps because she is a bit of a mannered actress, she may not be everybody's cup of tea. You may remember her from MARY POPPINS as the mother, Winifred Banks. She comes from a show biz family. Mervyn Johns her father created what I regard as the definitive Bob Cratchit in A CHRISTMAS CAROL, the version staring Alastair Sim, the best version by far. I am also a huge Alastair Sim fan, and he stars in one the four films.
Glynis Johns as Winifred Banks in MARY POPPINS
The movies are, LAUGHTER IN PARADISE, about four people who must earn their inheritance from a deceased uncle who is famous for his pranks, which don't stop after his passing. This is witty, ironic, full of romance with lots of twists and turns. Alastair Sim is one of the unworthy inheritors who must go to jail to get his money. You can imagine the fun that ensues.
The second is THE HAPPY THIEVES with Sexy Rexy, Rex Harrison and Rita Hayworth as a couple who want to pull off an art heist from the Prado Museum in Spain. Really, no kidding Rex and Rita. Does it get better? Bull fights, nail biting suspense, funny characters, it's got it all for a fun evening film.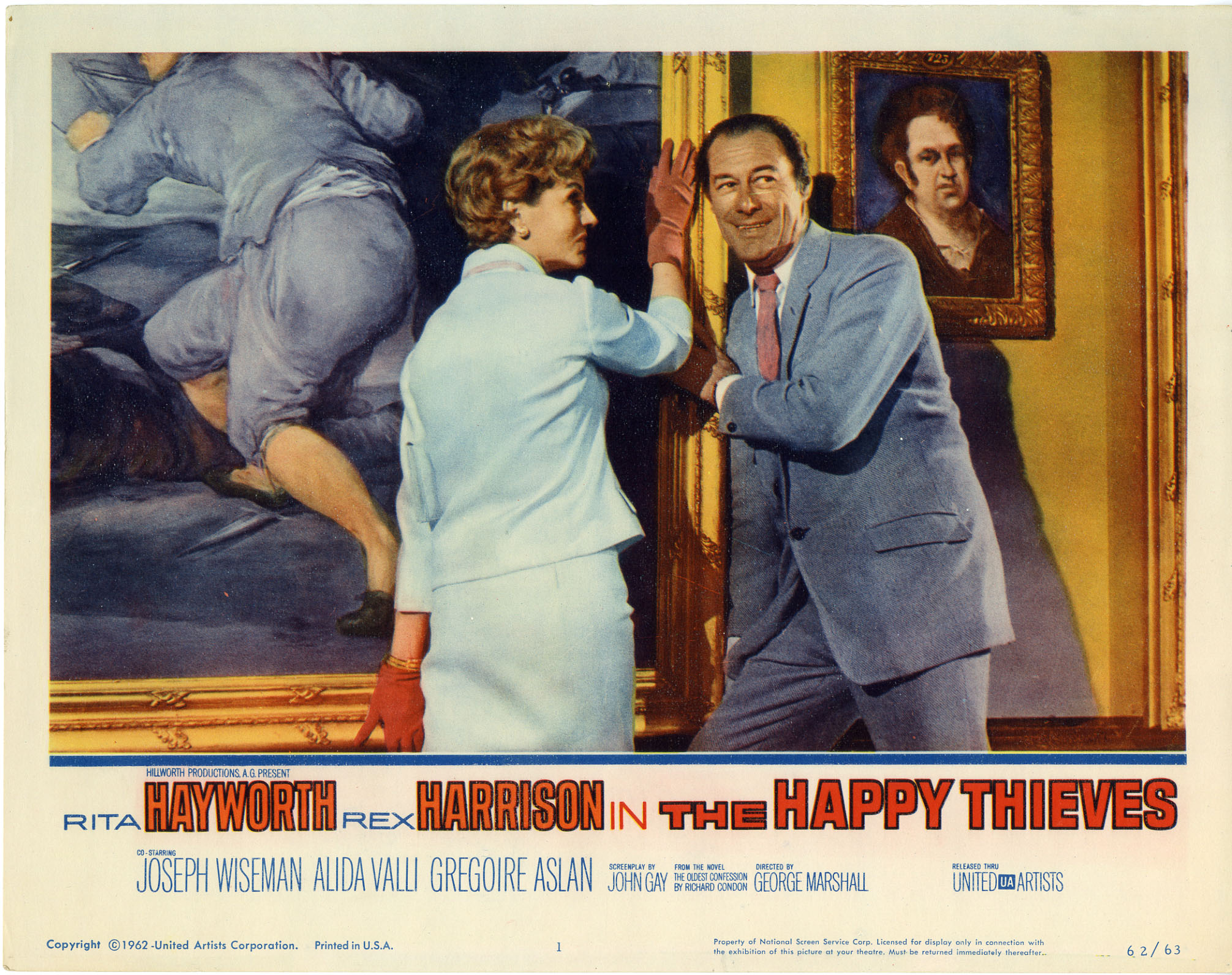 The third has the promising title of JOSEPHINE AND MEN. This stars Glynis Johns and Trevor Howard in an early role. It is directed by Roy Boulting, who was married to Hayley Mills long enough to have a son. This is a true romantic comedy, where Josephine has to decide which is the man worth marrying.
The fourth LOSER TAKES ALL is also with Glynis Johns and co-starring Rossano Brazzi, who played the irresistible Emile De Becque in SOUTH PACIFIC, and who is one of those men who makes me remember how heavenly it is to be a woman. The story is based on a Graham Greene novel. This is also a true romantic comedy, where the couple have quite a lot of amusing difficulties working out their marriage. Oh, and I forgot, the inimitable Robert Morley, one of my favorite funny men, lends his talents as the comedic villain of sorts. I loved it.
You get the idea....



So if you're looking for something to watch while you sit down for a cup of coffee between shopping, cooking, decorating and getting ready for the holiday, these will set you up nicely.